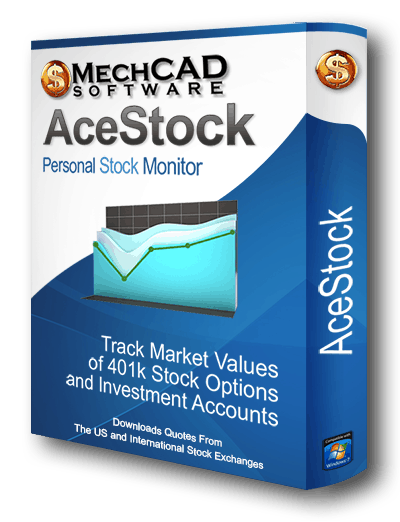 AceStock is a personal investment monitor for Windows or MacOS. You can't afford not to have this tool if you own any stock, participate in Stock Options plan or just want to know what's happening on the market with your 401k today. AceStock brings realtime stock quotes right on your desktop. You don't have to watch it all the time, AceStock works in a completely automatic mode. Every so often AceStock downloads the latest stock quotes from the Net and issues an alert if the stock is out of your defined range. This is it, nothing else, but isn't that all you want to know about your invesments?
The latest version of AceStock adds many new data sources for true international investors, it supports quote downloads from Yahoo, Yahoo UK, Money Central, Google Finance, AMFI India, and India Times.
As an investor you probably know that there are a lot of web sites providing similar service. AceStock not only replaces several opened pages with one window, but also provides these benefits:
Don't spend your time refreshing web pages
AceStock downloads quotes automatically in the background and does all the math for you!
Don't wait for email notifications
Some sites send emails if your stock is out of predefined range. Do you really want to read an email about something that has happened several hours or even days ago? AceStock alerts you immediately about any price changes!
Maximize your workspace.
It doesn't take any precious space on the taskbar – it stays in system tray all the time and blinks if your attention is required!